No matter where you are in the U.S., you're likely only a few miles away from a holiday lighting exhibit. Be it an annual public showing, a slightly overzealous neighbor, or even your own dedicated Christmas display – Americans love the bright lights season.
In fact, holiday lighting in the U.S. is so popular, that the country uses more electricity during the month of December than some countries do in an entire year!
Exactly how much? 6.63 billion kilowatt hours of electricity.
Definitely something to keep in mind when you're watching your neighbor synchronize their twinkling lights to Michael Bublé's entire Christmas album.
Exactly how many lights is that? And where are they plugging it all in?
It's certainly something we've thought about. A lot.
Which is why we've compiled a list of some of the top holiday lighting displays across the U.S.. Answering the questions – How many watts is that? How much does it cost? And where do you plug that in?
And before you ask, here are our "averaging" parameters –
Basic Assumptions:
Average incandescent light is 0.447 Watts per bulb*
Average LED light is .069 Watts per bulb*
Both LED and incandescent lights in these example meet the common average of 25 bulbs per string
Average power usage cost 11.3 cents
Daily run-time: 5 hours
Number of outlets per Wattage: 1 outlet per 1,800 Watts
*Note: Most household circuits are 15 or 20 amps and support 1,800 to 2,400 watts respectively. However, it's recommended to never exceed 80% of the max wattage capacity or you can blowout the circuit. So in other words, don't try these at home (or use a voltage converter to up your power).
**All of these are estimates and the author takes no credit for any incorrect math.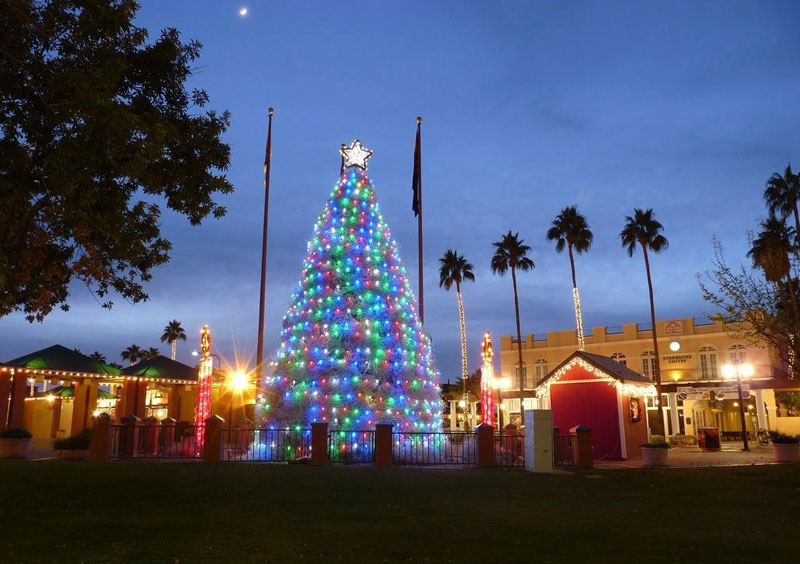 1. Chandler, Arizona – Tumbleweed Tree
Number of lights: 1,200 lights
Wattage: 536 Watts
Cost for December: $908.52
Outlets required: 1
*The tree also sports 65 lbs of glitter – try getting that off after an unfortunate encounter.

Image courtesy of Anthony Quintano. Licensed under Creative Commons 2.0.
2. New York, York – Rockefeller Center Tree
Number of lights: 45,000 lights
Wattage: 20,115 Watts
Cost for December: $34,094.93
Outlets required: 11

Video courtesy of Keith Shaw.
3. Cranbury, New Jersey – Keith Shaw's holiday display
Number of lights: 120,000 lights
Wattage: 53,640 Watts
Cost for December: $90,919.80
Outlets required: 30
*The only homeowner on the list!

Image courtesy of Branson Convention and Visitors Bureau. Licensed under Creative Commons 2.0.
4. Branson, Missouri – Old Time Christmas
Number of lights: 5-Story Special Effects Christmas Tree that features 350,000 LEDs synchronized with Christmas music
Wattage: 345,000 Watts
Cost for December: $584,775.00
Outlets required: 192

Video courtesy of New Day Videos.
5. Washington D.C. – Zoolights
Number of lights: 500,000 LED lights
Wattage: 34,500 Watts
Cost for December: $58,477.50
Outlets required: 19

Image courtesy of Karyn Christner. Licensed under Creative Commons 2.0.
6. Coeur d'Alene, Idaho – Lights on the Lake
Number of lights: 1.5 million
Wattage: 5,140,500 Watts
Cost for December: $8,713,147.50
Outlets required: 2,856

Image courtesy of Emily D.
7. Austin, Texas – Trail of Lights
Number of lights: 2 million
Wattage: 894,000 Watts
Cost for December: $1,515,330.00
Outlets required: 497

Video courtesy of Attractions Magazine.
8. Disney's Hollywood Studios, Florida – The Osborne Family Spectacle of Dancing Lights
Number of lights: 5 million
Wattage: 2, 235,000 million watts
Cost for December: $3,788,325.00
Outlets required: 1,242
*The park also boasts 30 miles of extension cords. If we assume each cord is max length at 300 and all are straight, that's still 528 separate extension cords. Now imagine how many there actually are?
Of course, not every holiday lighting display is created equal – and incandescent or LED there are still standard safety precautions to follow.
So before you start your own holiday lighting extravaganza, be sure to:
Check the voltage in your outlets (if you don't know the voltage of your indoor or outdoor outlets, test them with a digital voltage meter)
Make use of extension cords and power cables so you don't have to connect as many lights together
Check each strand of lights for broken bulbs and other safety hazards
After that it's up to you! Just be sure to let us know how your display stacks up to the competition.
Sources
U.S. Christmas Lights Consume More Electricity Than Entire Countries Do in a Year
Christmas Lights Power Consumption
How Much Does it Cost to Power Your Christmas Lights?
Holiday Light Safety
Best Places to See Christmas Lights – From D.C. to Las Vegas
The Best Christmas Lights in Every State
Where to See the World's Best Christmas Lights